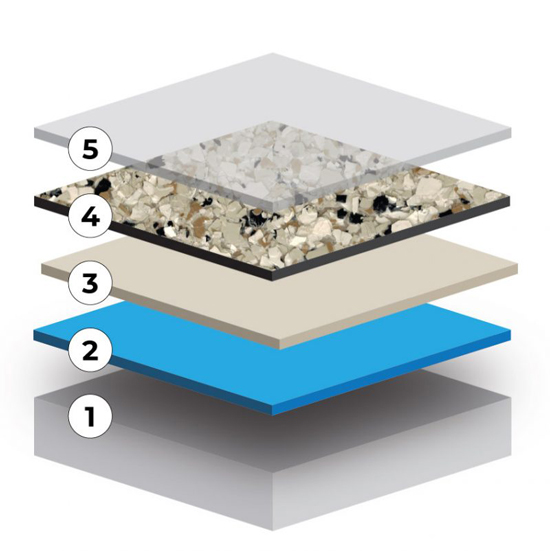 The flake we use is a multi-coat broadcast concrete coating system. It is available in a variety of choices and color flakes to match your floor. Flakes can be used for terrazzo-like seamless flooring and numerous types of commercial and residential flooring applications.
Concrete
Pigmented Primer (8 mils)
Pigmented Basecoat (12 mils)
Flakes (14 lbs per 100 sq.ft.)
Clear Topcoat (12-14 mils)
ADVANTAGES
Wide choices of blends and finishes
Can be used as a floor or wall coating (vertical surface)
Not much maintenance
UV coating
Contoured finish allows for optimal traction
No hot-tire pickup
1-day installation with next-day return to service with polyaspartic
All-climate  installation, including cold weather
Superior chemical resistance (gasoline, oil and de-icing salts)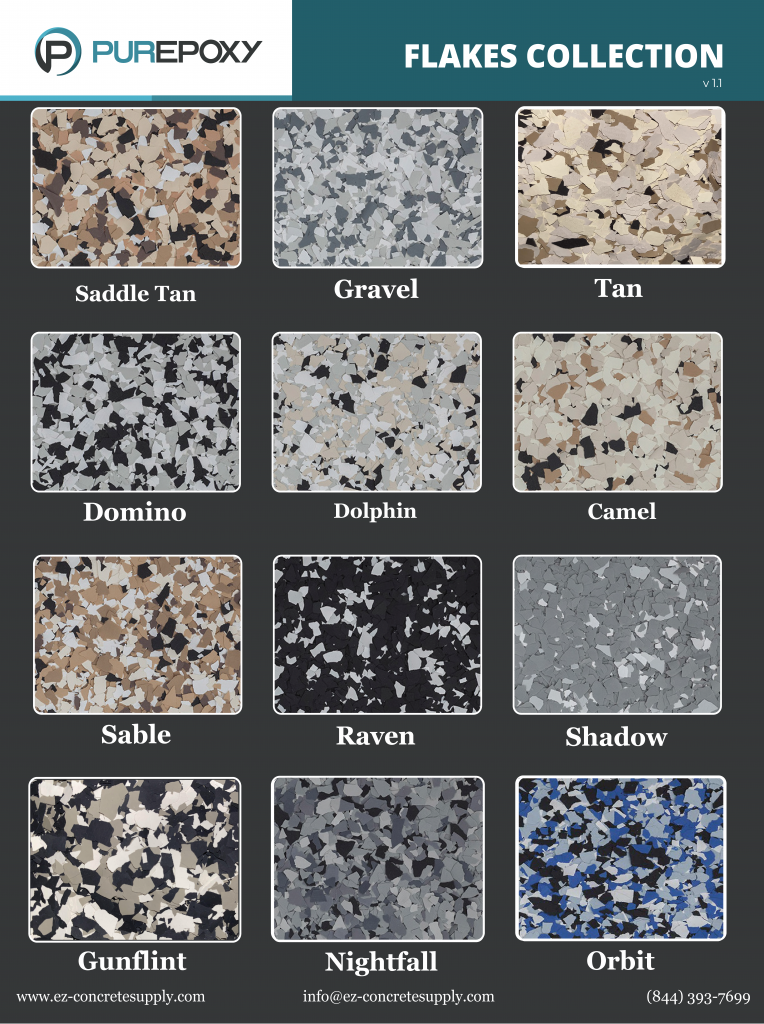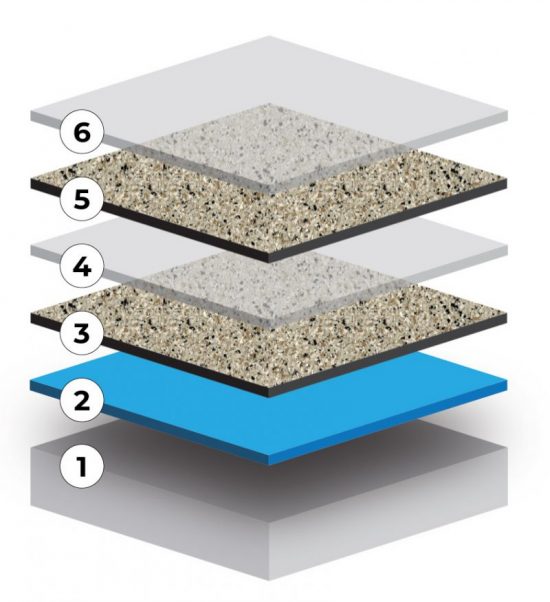 Quartz is a highly-durable concrete coating application which incorporates a double broadcast of colored quartz aggregates with polyaspartic or epoxy concrete coatings. The system provides flooring solutions for the most demanding heavy-traffic environments, specifically in areas which require excellent high traction properties.
Concrete
Pigmented Basecoat (8 mils)
Broadcast (1 lb per 1 sq.ft.)
Second Basecoat (14 mils)
Broadcast (1/2 lb per 1 sq.ft.)
Optional Clear Topcoat 
ADVANTAGES
High traction coefficient
Wide assortment of custom finishes
Interior or exterior use
Superior durability & impact resistance
Rapid return to service
A very popular decorative flooring system for residential, commercial or industrial use. Available in both epoxy and urethane and in a wide variety of beautiful and shiny colors. Metallic Flooring System is designed to provide a beautiful finish, color brilliance and depth. Different unique designs can be made by manipulation to create beautiful results and effects. Their quality, color variation and durability make them a very popular choice and product within commercial retail settings.
Concrete
Pigmented Basecoat (8 mils)
Metallic coat (40-50mils)
Optional Clear Topcoat (12 mils)
ADVANTAGES
Vibrant Colors
Infinite creation with 2-3 different colors
Easy to install (2 or 3 coat system)
Interior use only
2-day application with next-day return to service
Unique application techniques
UV stable
Waterbased urethane or epoxy wax to protect the floor
Can be polished